true confessions of charlotte doyle: going back to school hasn't been exciting for me since the days of supply lists and target shopping sprees. i miss choosing my binder (canvas or zip? five star or mead?), picking out my folders (where the where do you find yellow trapper keepers anyway?), selecting my elaborate collection of lisa frank pens, pencils, pouches, and erasers. no matter how i try to recreate this experience, it's never the same as coming home with bags full of goodies and meticulously writing your name on every school supply you own (we all did that, right?).
but i will admit, i am pretty excited about my favorite back-to-school trend this year: updated takes on the schoolboy satchel.
this is the look i'm trying to emulate this year:
so profesh.
there are so many enticing options. the
billykirk schoolboy satchel
is marketed to men, but i think it would be stunning for anyone: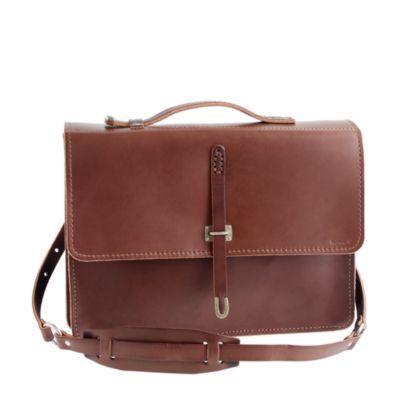 jcrew.com
since i lack, however, a ridiculous amount of disposable income, i have landed on this satchel to satisfy my lust for bright pink british-inspired goodness:
steve madden
it's about $100 less than the cambridge bags (with the nordstrom sale) and it's the perfect size for my netbook or ipad, planner, wallet, and phone. my default school bag will always be my timbuk2, but for those days when i'm just going to the office and need just a few things, this will be perfect.
so that's my satchel story. i'm pretty excited about this trend and would love to hear what you think. are there schoolboy satchels (or other derivative styles) in your back-to-school/work future?