i don't know about where y'all are at, but around here in california, spring is starting to dip its toe in the seasonal pool. there are suddenly birds chirping and those beautiful pale pink/purple flowers blooming on the trees. i know i already posted about the upcoming changing of the seasons, but whatever. it may be cliche, but the transition from winter to spring is always the most welcome and dramatic to me. plus, there are new spring trends popping up every day so the double posting is totally warranted.
first things first, there's the all-important question of what the season's "mascot" animal will be. foxes and hedgehogs have had their turn in the spotlight. so while woodland creatures are phasing out, the animal that might be stepping it's spindly legs into the fashion picture is the....flamingo?
shefinds
has the complete low-down but here's one of my favorites:
i know some people who will be stoked about this trend (me) and others who will be the opposite of stoked (won't name names).
the other thing i'm excited about is the resurgence of baubles. bright, fun, and the easiest way to spice up a white tee and jean combination.
i'm partial to something in fuchsia...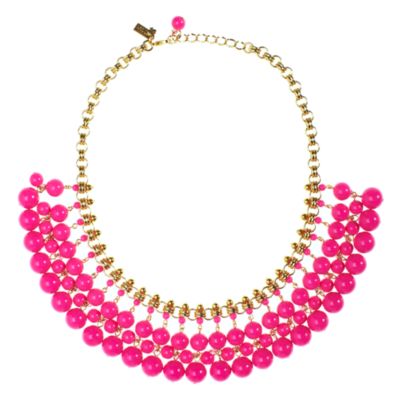 kate spade
bauble bar
is one of my favorite new finds of the week - they have tons of cute jewelry at pretty nice prices and they give you styling suggestions for each piece! here are some of my favorites:
if these seem a little intense to you, never you fear...they have all sorts of styles. PLUS your first order is $10 off, PLUS if you use this link: http://www.baublebar.com/rewardsref/index/refer/id/251724/ and buy something, i get $15. so that's cool.
alright, that's your spring round-up for the day. more to come (i'm sure)...